China Visa Application Service
For all passport holders, except other countries with surcharge
All prices are based on Hong Kong Dollars (HKD) per/person
Duration of Staying

(per entry)

Single Entry(L)

N/A

$870

$1430

$2100

Max. 30 days

Double Entries(L)

N/A

$1050

$1610

$2260

Max. 30 days
| | | | | | |
| --- | --- | --- | --- | --- | --- |
| Single Entry(M) | N/A | $970 | $1530 | $2200 | Max. 30 days |
| Double Entries(M) | N/A | $1150 | $1710 | $2360 | Max. 30 days |
*Valid from the date of issue. (L) = Tourist Type Visa, (M) = Business Type Visa.

**6 months and 1 Year Multiple Entries Visa application service is suspended until further notice**

To check out surcharge for other countries, please contact with our customer services officers (Other Countries includes: @ Angola, Armenia, Belarus, Bolivia, Bulgaria, Brazil, British, Cameroon, Chile, Canada, Congo, Cote D'Lvoire, Ecuador, Ethiopia, Eritrea, Gabon, Iran, Kazakhstan, Mexico, Moldova, Panama, Poland, Romania, Russia, Ukraine, Uzbekistan, U.S.A.,Venezuela.).

Visa fee once paid is not refundable.
Visa application and Collection time (All passport holders, Except U.S.A)
Single Entry & Double Entries

Visa Type

Application Time

Collection Time

Normal
Before 09:30 am
The Fifth working day 6:30 - 7:30 pm
Express
Before 09:30 am
The Third working day 6:30 - 7:30 pm
Urgent
Before 10:00 am
Second working day 6:30 - 7:30 pm
Working day: Mondays to Fridays, excepting Hong Kong Public Holidays.

*Please contact our customer service officer to make appointment before at least one working day.
Document required for China Visa application (for all applicants except U.S.A)
Original Passport (Must have Hong Kong Entry stamp, at least one blank page, except amendment pages and pages with bar codes , and 6 months validity form the date of travel)

One (1) recent passport size photo **Digital photo is not acceptable**
1. It must be a color photo, taken recently within the last 6 months.
2. Photo size: 48mmx33mm, width of head: 15mm to 22mm, head eight of head: 20mm to 33mm.
3. It should be easy to identify the applicant by the photo: while taking the photo, please face the camera with the entire head and face clearly visible. The facial expression should be neutral with eyes open, lips closed and ears visible. Head position: ≤20°left or right tilt, and ≤25°up or down tilt. There should be no extra movement or objects visible in the photo.
4. Facial features should be complete and clearly visible, with the head centered in the photo. Eyeglasses are allowed except thick-rimmed glasses or tinted or glare glasses. Hat or other head wears are only permitted due to religious reasons, but any facial features should not be obscured.
5. There should be no damages or impurities on the photo, no permeation or shadow over the face. Photo should be in nature tone, but not over or under exposed, red eye or distorted.
6. Photo background should be in white or close to white with no edge frame. Photo with scene of everyday life will not be accepted.
7. Photo should be printed on glossy finish photo paper, but not on matte finish paper or plain paper, and should be stainless, scratchless or without creases.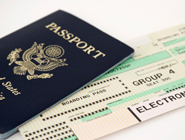 The visa's type, validity of the visa, duration of stay, and number of entries are issued at the discretion of consular officers, whose decisions are based strictly on the laws and regulations of the Chinese Government. The consular officers have the authority to refuse any applications inconsistent with Chinese laws and regulations and /or revoke issued visas. Meanwhile, the consular officers reserve the right to refuse any application and withhold disclosure of the reason for the refusal.
Reservation & Contact Us
For enquiries or reservation, please contact us at Tel: (852) 2739 4296 or email to
cs@goldenpromise.com.hk

The above information is for reference only & subject to change without prior notice.